Past NPPN Activities
2019 NPPN Field Day
SLU and Lantmännen hosted the Field Day which took place on 25 June 2019. The day included presentations as well as visits to SLU's SITES Lönnstorp Research Station and Lantmännen in Svalöv. See the program here.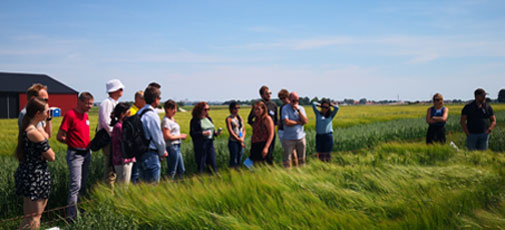 2018 Annual NPPN Workshop
The 4th annual NPPN workshop Field Phenotyping – towards new frontiers in crop improvement was held on 22-23 November 2018 at Rungstedgaard, Denmark. See the program and presentations from the workshop here.
2018 NPPN Field Day
The Field Day was planned in collaboration between Danespo, DLF and the University of Copenhagen. It took place on April 25th 2018 at the Universiy of Copenhagen research farm, in Taastrup near Copenhagen. The day included a visit to the phenotyping research infrastructures and demonstrations of the 6P UAS concepts. See programme details here.

2017 Annual NPPN Workshop
The 3rd annual NPPN workshop High-throughput Field Phenotyping – Plant Breeding in the Age of Gadgets and Big Data was held on November 22-23 at Hotel Skansen in Båstad, Sweden. See the presentations from invited speakers here.
2017 NPPN Field Day
The Field Day was hosted and arranged by LUKE and Boreal. It took place on July 5th on the University of Helsinki Viikki campus and gave participants an introduction to the LUKE and Boreal facilities and showcased the National Phenotyping Infrastructure at the University. The activities also included letures on hyperspectral imaging and new projects. View the programme here.

2016 Annual NPPN Workshop
The 2nd annual NPPN workshop Advances in Plant Field Phenotyping - New Tools in Plant Breeding and the 2nd NPPN General Assembly was held on November 23-24, 2016 at Hotel Skansen in Båstad, Sweden.
2016 NPPN Summer School 2016
A one week (5 ECTS) official summer school course on Crop Innovation, from Genes to Seeds was established and was hosted at the University of Copenhagen SCIENCE campus starting on July 3rd, 2016.
2015 Annual NPPN Workshop
The 1st annual NPPN workshop Plant Phenotyping in a Nordic Context and the 1st NPPN General Assembly took place on December 7-8, 2015 at the conference center Kolle Kolle near Copenhagen.